Lucknow April 07 (Only Kashmir):
Muslim clerics in Lucknow decried Pakistan skipper Shahid Afridi's reported remarks admonishing the Indians for not being big hearted as Muslims and Pakistanis.
A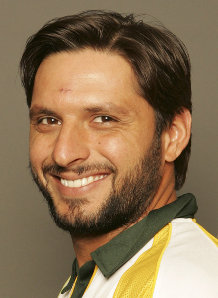 fridi's comments created ripples among the Muslim clerics who termed it as an outburst of a losing captain who failed to win the World Cup. The Pakistan team led by Afridi were trounced by India in the semi final of the ICC world cup held on March 30.
"Afridi has no right to pass comments on Muslims in India. We do not need any certificate from him. It reflects his mental state after losing the match to India. He should be more responsible in passing such comments," remarked Naib Imam Aishbagh Eidgah, Maulana Khalid Rasheed Farangi Mahli. Imam of historical Tile Wali Masjid Maulana Fazlur Rehma Waizi went a step further and stated that Indian Muslims cannot tolerate anything which questions their nationality. "We are Indians and will support our country till our last breath. Afridi has no ground in passing comment on us, he should better concentrate over his cricket and ponder over the state of affairs in his country," said Waizi. Both Farangi Mahli and Waizi had organised special dua before the semi-final and finals praying for India's victory.
Spokesperson of the All India Shia Personal Law Board (AISPLB), Maulana Yasoob Abbas vehemently condemned Afridi's remarks terming Pakistan as a failed state. "We love our country and are not foolish to gift Afridi the World Cup. It is hard earned by our team who had displayed outstanding sportsmanship and cricketing abilities during the tournament. Afridi should not include Indian Muslims in his remarks," said Maulana Abbas.
Several other clerics including Maulana Naeemur Rehman of Islamic Centre of India, Maulana Ameer Haider, Secretary, Ulema-E-Hind, Maulana Tasleen Mehdi, Maulana Saleem Zaidi, Ali Meesam of Meesam-E-Tammar Foundation also condemned Afridi's remarks terming them as comments from a losing captain who cannot reconcile with his team's defeat.