Kashmir was involved in our talks: Gilani
Islamabad (Pak), Apr 1 (Only Kashmir):
Prime Minister Syed Yusuf Raza Gilani on Friday emphatically stated his talks with Indian Prime Minister Dr. Manmohan Singh in Mohali involved all core and outstanding issues between the two countries including Kashmir. "How we [Pakistan and India]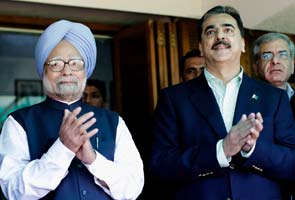 can move forward without resolving the Kashmir dispute. We discussed all core and outstanding issues including Kashmir", Gilani said while responding to queries of callers in the live monthly television programme "Prime Minister On-Line". The Prime Minister said he discussed the issue of Kashmir with the Indian Prime Minister not only this time, but during his all previous meetings as well.
The Prime Minister referred to his meetings with the Indian Prime Minister in Colombo in 2008, in Sharm el-Sheikh in 2009 and then in Thimpu, Bhutan, and said it was Thimpu where the two leaders agreed to resume the dialogue process at Foreign Secretary and Foreign Minister levels.
Gilani said he accepted the invitation of Prime Minister Manmohan Singh to witness the Pak-India ICC World Cup semi-final in Mohali, with a view that it would provide a good opportunity of discussion with the Indian Prime Minister.
The two countries have to find the solution of their issues through dialogue, he added.
"It would be unfair to make a comparison of his visit to India with those of dictators' visits for witnessing the cricket match",
Gilani remarked in response to a question about the history of Pakistan-India cricket diplomacy vis a vis visits of former
Presidents General Zia ul Haq and Pervez Musharraf in 1987 and 2005, respectively.
Gilani said he is a democratically elected Prime Minister and there were democratic governments in both countries, with leaders having rendered great sacrifices for democracy.
To a question, the Prime Minister said despite the Mumbai incident, he and Prime Minister Singh in their meeting in Thimpu agreed to resume dialogue and not let the dialogue process become hostage to such incidents, as it would only benefit the militants.
Gilani said the presence of Indian Congress President Ms. Sonia Gandhi in the Mohali meeting was also a show of solidarity.
The Prime Minister said the recent Interior Secretary level talks between Pakistan and India in New Delhi remained extremely successful, adding, the forthcoming Commerce Secretary level talks would follow more meetings where each and every issue would be discussed.
To a question regarding the third-party mediation, the Prime Minister said, Pakistan and India can and should resolve their issues through bilateral dialogue, adding, "We have to take ownership of our issues".